Reopening 1st June 2022
We are delighted to announce that Auchindrain Historic Township will reopen on 1st June 2022. The consequences of an earthquake that hit the area in November 2021 have led us to adapt our visitor experience due to damage suffered by some of the buildings. Initially there will be one guided tour at 1:30PM on Tuesday, Wednesday, Thursday, and Sunday, with the possibility of adding more tour times and days if there is enough demand. Click here for more details
Events
In January 2022 we started a series of online storytelling sessions in Gaelic, celebrating Scotland's Year of Stories. Throughout the year, the stories will premiere on our YouTube channel on the following dates, and will remain available thereafter as a resource:
14 January, 7pm (Now available on You Tube) – Old New Year story from the Isle of Islay
1 February, 7pm (Now available on You Tube) – A short teaser on Imbolc/St. Brigid's Day, the traditional Gaelic festival marking the beginning of spring and the ploughing season
18 February, 7pm (Now available on You Tube)– A brace of traditional Gaelic stories from Lochaweside
15 March, 7pm (Now available on You Tube)– A short teaser story before the next main event, marking the Spring Equinox and the sowing of the fields
31 March, 7pm (Now available on You Tube) – A traditional story told in the Argyll dialect from Glendaruel in Cowal
16 September, 7pm – A local tale celebrating bringing in the harvest
31 October, 7pm - A traditional Gaelic story told on the festival of An t-Samhain/Samain
If you are not doing so, follow us on Twitter, Instagram, and Facebook for news, updates, behind the scenes info and reopening date and time.
Our historic township
Unique, authentic, thought-provoking
Step back in time and discover Scotland's rural history at Auchindrain, the most complete and well-preserved example of a Scottish Highland farm township. Vividly imagine life in the old Highlands as you walk through the settlement and see how ordinary people lived and worked. Step into the restored longhouses, see the objects of everyday life and learn about the past inhabitants. Explore the byres, stables and fields to understand how groups of families worked the land in common. Uncover a fascinating, long-vanished Scottish way of life deep in the hills of Argyll.

Auchindrain is six miles south of Inveraray, just 90 minutes from Glasgow and 45 minutes from Oban.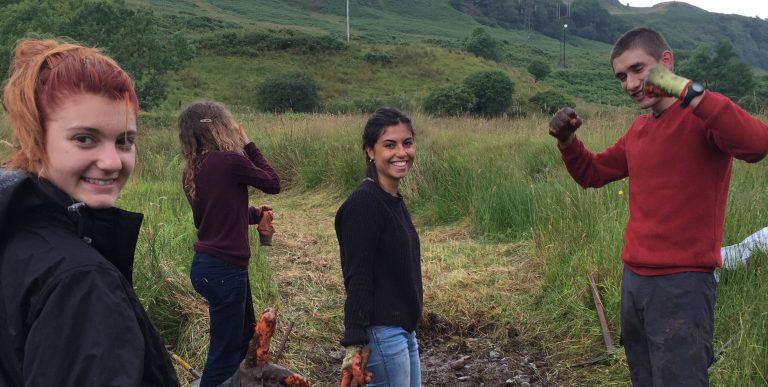 All contributions are very gratefully received and contribute to the valuable work we do here at Auchindrain.
Donate
Looking at replica rolex, really hope to be tuned to the same time as you someday.