OPEN in "winter Mode"
From 23 October 2023 until the end of March 2024 we are open in "winter mode" Monday to Thursday from 10am to 3pm (closed over Christmas and New Year) .
During this period, you wil find less items displayed in the buildings, and visitor centre and toilet facilities are not available. Booking online is essential. While we are in 'winter mode' you can take advantage of reduced entry fees.
Auchindrain is a genuine historic site. With the exception of our 1970s Visitor Centre, everything you see was here back in history. Nothing has been added or taken away. Most people find their visit to Auchindrain a magical experience. Unlike most traditional museums that offer exhibits in glass cases, Auchindrain is a place to experience and immerse yourself. The buildings are every bit as much part of the collections as the objects within them. The same is true for the landscape, which contains evidence of how the site was used and evolved over time. The township is preserved as it was in the past, and we consciously avoid dressing it up to look too polished. This will allow you to understand and appreciate its authenticity.
On most days there is something going on. We are always working to keep the buildings in good order and farm the land. A few times a year extra activities and special events bring the township fully back to life, but most of the time your imagination will help you sense and feel how things were.
Follow us on Twitter, Instagram, and Facebook for news, updates and behind the scenes info. There's also a lot to see on our YouTube channel.
Our historic township
Unique, authentic, thought-provoking
Step back in time and discover Scotland's rural history at Auchindrain, the most complete and well-preserved example of a Scottish Highland farm township. Vividly imagine life in the old Highlands as you walk through the settlement and see how ordinary people lived and worked. Step into the restored longhouses, see the objects of everyday life and learn about the past inhabitants. Explore the byres, stables and fields to understand how groups of families worked the land in common. Uncover a fascinating, long-vanished Scottish way of life deep in the hills of Argyll.

Auchindrain is six miles south of Inveraray, just 90 minutes from Glasgow and 45 minutes from Oban.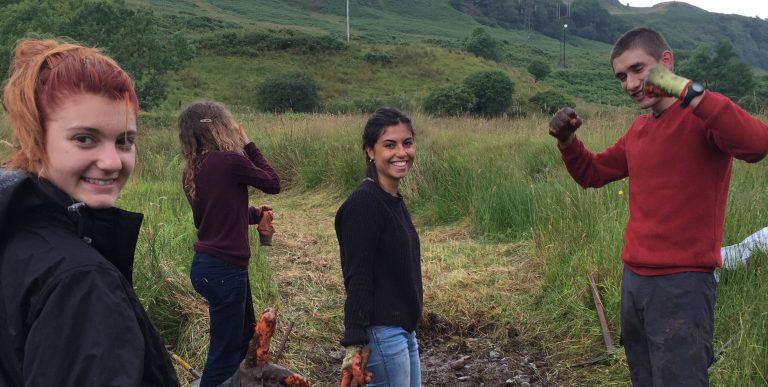 All contributions are very gratefully received and contribute to the valuable work we do here at Auchindrain.
Donate