We are open!
From 9th June to the end of October we will be open Wednesday to Sunday from 11:00am to 4:00pm, last admission 3:00pm.
You are strongly encouraged to pre-book your visit through our website. Visitors who have not booked in advance will be asked to complete a "test and trace" form on arrival.
Two-metre social distancing is expected and please follow queuing instructions. Entry to all buildings is limited to one social group at a time.
Face masks must be worn indoors. Outdoors, they are optional but strongly recommended.
We have installed a Perspex screen at the Visitor Centre service counter. We prefer contactless payment, but will accept cash.
Hand sanitising stations are available throughout the site. Please clean your hands on entering the Visitor Centre and other buildings. To minimise risks, within the buildings please look but do not touch.
We have toilets for use by visitors: these are cleaned several times a day, but not after each use. Cleaning products are provided in each cubicle and you are expected to sanitise the facility yourself before and after use.
Hot and cold drinks, cakes and biscuits, and pre-packed snacks are on sale in the Visitor Centre, with limited indoor seating to ensure social distance. Our picnic area is open and the tables are cleaned regularly. You are welcome to bring your own picnic, including a blanket or tablecloth.
Normally, our visitors are free to wander wherever they want, but in order to be Covid-safe we have established a one-way route and access is restricted in areas where this is not possible. We will lend you a tablet pre-loaded with information about the museum, and show you how to use it. At the end of your visit, please leave the tablet in the designated place so it can be sanitised before use by other visitors. Unfortunately, the app cannot be downloaded to your own device.
With 22 acres of historic landscape, a visit to Auchindrain is the ideal place if you are looking to avoid overcrowded spaces. It is also a unique opportunity to embark on a trip to the past in Scotland's last surviving township. We can't wait to say hello and share our enthusiasm for a place like no other and its importance in Scottish history.
Our historic township
Unique, authentic, thought-provoking
Step back in time and discover Scotland's rural history at Auchindrain, the most complete and well-preserved example of a Scottish Highland farm township. Vividly imagine life in the old Highlands as you walk through the settlement and see how ordinary people lived and worked. Step into the restored longhouses, see the objects of everyday life and learn about the past inhabitants. Explore the byres, stables and fields to understand how groups of families worked the land in common. Uncover a fascinating, long-vanished Scottish way of life deep in the hills of Argyll.

Auchindrain is six miles south of Inveraray, just 90 minutes from Glasgow and 45 minutes from Oban.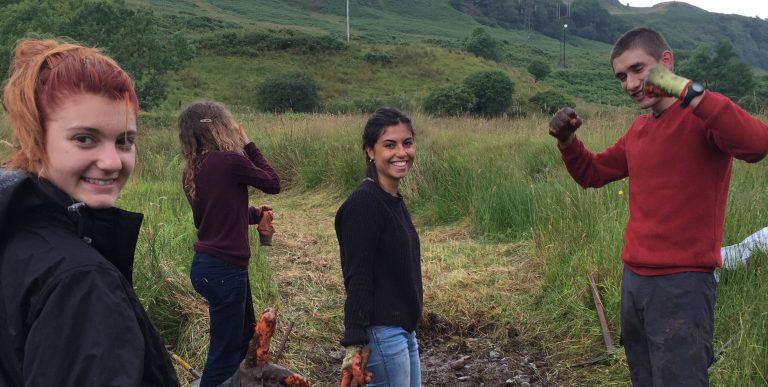 All contributions are very gratefully received and contribute to the valuable work we do here at Auchindrain.
Donate